We encourage you to take a few minutes to review the following fraud alerts (or scams). If you are approached in a similar manner, or suspect abuse of the Sun Life Financial name, logo or a variation of either, contact us.
If you have suffered a financial loss as a result of fraud, contact your local police. View a list of agencies that may be able to assist you.
Sun Life Financial investigates all reports of our brand, logo or corporate name being used for fraudulent activities. When we are aware of a scam, we will provide a description and preventive measures here.
Current fraud alerts
Global Test Market / Western Union advance fee mystery shopper scam
Fraudsters are illegitimately using the name of Sun Life Financial in an advance fee mystery shopper scam. A letter is being sent, promoting a mystery shopper opportunity using the name of Global Test Market (a legitimate market research company). The letter states that Sun Life Financial and Global Test Market have been engaged by Western Union and contains a counterfeit Sun Life Financial cheque that recipients are asked to deposit into their personal bank accounts.
The victim withdraws a portion of the cheque amount and makes a payment through Western Union to the fraudsters. The original cheque deposited by the victim will not clear and the victim will lose the sum they transferred through Western Union.
View a sample copy of the correspondence and cheque (English only):
Do not cash the cheque and do not call the number on the letter. Do consider contacting the Canadian Anti-Fraud Centre, or contact us if you have any further questions.
Lottery or sweepstake scam
This scam involves informing unsuspecting individuals, through notices, that they have won an international lottery. In a similar scam, individuals are informed that they have been selected as winners of a sweepstakes or of unclaimed lottery funds. The notices, typically printed on fake Sun Life Financial letterhead, are accompanied by cheques to assist in paying international clearance fees or taxes. The cheques are counterfeit and drawn from closed or fictional accounts with absolutely no connection to Sun Life Financial. Respondents who remit such fees do not receive any lottery winnings and the cheques do not clear.
These lotteries and other types of publicized sweepstakes are fraudulent. The cheques received are not issued by Sun Life Financial or any of its affiliated companies. Sun Life Financial continues to work with various police and postal authorities to investigate such scams.
View a sample of the fraudulent correspondence and fake cheque:
If you have received a lottery or sweepstakes letter purported to be from Sun Life, you should destroy the document and the cheque. Do not present the cheque to be cashed. If you have lost funds by falling prey to a scam such as the one described in this alert, contact your local law enforcement agency. To inquire about this fraud alert please contact us.
Escrow fraud
Someone is misusing the name Sun Life Financial and a legitimate Sun Life Financial of Canada U.K. address to operate a fraudulent scheme targeting businesses and individuals. If you receive any communication referencing "SLOC Escrow division" or "Escrow accounts" offered by Sun Life Financial, please contact us immediately.
The scam artist uses the following U.K. phone number: (44) 01256 274028. This phone number is not an authorized Sun Life Financial business line.
View samples of the fraudulent documents used in this scam (English only):
Advance fee scam
Scam artists are misusing the name "SLFC Unit Managers (UK) Limited" to commit a type of advance fee fraud targeting individuals and companies in the United States and United Kingdom.
A phony contract or "Deed of Agreement" is sent in an effort to defraud unsuspecting investors by using Sun Life Financial's name or a variation of the company name. In some incidents, the scam artist uses a legitimate address of Sun Life Financial in fraudulent documentation to gain the trust of potential victims. These "agreements" or "deeds" are not from Sun Life Financial or any of its business entities.
Job scams
Sun Life is aware of ongoing attempts by unscrupulous individuals posing as Sun Life employees, who falsely offer jobs at Sun Life. The false jobs are advertised through various means, including newspapers, magazines, fake websites and legitimate recruitment websites. Some red flags to watch for include: poor spelling and grammar in the job advertisement; telephone numbers and email addresses not attributable to Sun Life; interviews using instant messenger; requests for personal and financial information; upfront fees.
We urge job applicants to carefully check and confirm the credentials of any person that represents themselves as being associated with Sun Life before divulging any personal and/or financial information. If in doubt, contact us.
Share or boiler room scams ("Sun Life Offshore" or "Sun Life Gold Market")
Report any communication referencing "Sun Life Offshore" or "Sun Life Gold Market." The scam artists email you, posing as Customer Service representatives. They target potential investors by using tactics such as sending research reports, calling and mailing brochures to persuade you to buy worthless shares. They are typically very persistent and extremely persuasive. Investors who fall victim by purchasing shares are out of pocket because the shares are worthless and the boiler room then vanishes.
For more information or to report a fraud, contact the following U.K. organizations or visit their websites:
Telemarketing scams
There are reports of telemarketing "operators" posing as Sun Life Financial representatives. The caller will typically try to get you to reveal your personal information either over the phone or get you to meet with a person, at your home or in a public place. They want you to disclose personal information such as your credit card numbers, your social insurance number or your Sun Life Financial insurance policy number, if they discover you have one. We are working with the appropriate authorities to help track down the people or organizations that may be involved in this scam.
If someone contacts you saying they are calling from Sun Life Financial (or a variation of our name), be on guard. Do not respond to unsolicited requests for your personal information over the phone or by Internet. Sun Life Financial keeps your policy and personal information in strictest confidence and does not disclose this information to telemarketers.
If you receive a call from the following phone number, 202-230-2363, please discontinue the call and do not provide any information to the caller. This phone number is not an authorized Sun Life Financial business line.
Sun Life Financial does not call or email customers requesting personal information such as passwords, bank account information or a credit card number, unless you initiate the inquiry and we are responding to you. Review Sun Life's privacy commitment for more information.
Forged cheque scam
We are investigating a fraud that targets U.K. financial institutions.
A letter appearing to be from "Sun Life Financial of Canada" arrives addressed to the Branch Manager. Printed on poor-quality, non-official Sun Life Financial letterhead, the letter requests that an enclosed cheque be deposited to a specified account. The manager is asked to contact the account holder when the funds are deposited.
The letter and the cheque enclosed are not from Sun Life Financial, nor does the account belong to the company. If you receive such a cheque or letter, do not deposit the cheque or respond to the request.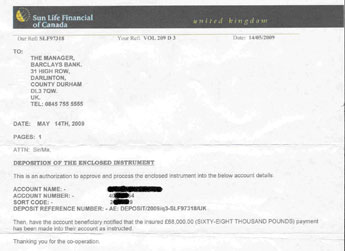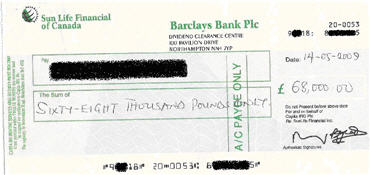 Common fraud examples
Loan scam
This scam promises you a loan if you send them an up front fee, which may range from hundreds to thousands of dollars. The fee must be wired before the loan proceeds will be provided. Once you send your money, you never receive the loan amount and there is no way to get your money back. Loan scams have been appearing as ads in the classified sections of local and national newspapers, magazines and tabloids. Legitimate loan companies will not take any fees off the original loan amount. In most jurisdictions, it is illegal for a company to request an up front fee from their Clients prior to obtaining a loan.
Cheque scam
This scam involves unauthorized individuals targeting people who have placed ads in websites or magazines to sell high value items such as vehicles and property. The scam artist, using an assumed name, calls the seller and says they're calling from a Sun Life Financial office. They offer to overpay for the item. The seller is sent a cheque for more than the purchase amount and is asked to forward the excess amount to an offshore location. The buyer's cheque is eventually declined, and the seller is out of funds.
Another variation of this scam involves a person who is owed money for goods sold through classified ads or on the Internet. The seller is sent a cheque for more than the amount of purchase and is asked to wire transfer the difference back to the purchaser. The cheque may be personal, a cashier's cheque or appear to come from a company. The scammers use a variety of excuses to explain the overpayment. If you receive a cheque from Sun Life Financial that you were not expecting, do not cash it without contacting us first.
These are not Sun Life Financial lines of business. You should always be suspicious of anyone wanting to pay you more than the agreed selling price and expecting you to reimburse the difference.
Consumer's reward program scam
Scam artists are misusing the name "Sun Life Financial Services" to commit a type of advance fee fraud on unsuspecting residents in Canada and the United States. Letters citing a "Consumer's Reward Program" are mailed to recipients, advising them they have won a lottery. These letters are not from Sun Life Financial or any of its business entities.
---
What to do if you suspect fraud
Contact us if you suspect fraud, believe you have been a target of a scam and/or receive a suspicious email or telephone call from someone that you suspect to be falsely representing Sun Life Financial or if you have shared personal information with a scammer.
Choose another region
Find legal, privacy, security and fraud information for where you do business with Sun Life.