Discover a lot more on your path to Salesnet
Discover a lot more on your path to Salesnet
It's easier than ever to do more for multi-generational families - and your business - on any mobile device.
Now, your new starting point for Salesnet offers you insights and tools along with easy access to our robust public site that's designed to:
Help your HNW international families across the generations preserve, advance and transfer their wealth efficiently.
Give you and your clients news, updates and insights that demonstrate our financial strength and innovation and present our Life and Wealth Solutions
See our site's highlights:

Fast connection to your accounts
From any location on the site, you can easily access your book of business* and our comprehensive resources by clicking on the Access Your Account button. Plus, you can continue to log in to Salenet as you have before using your existing credentials.
*not available to all firms

Mobile-friendly navigation
Use our menu to find your way through the new site. Wherever you are, more information is just a click away.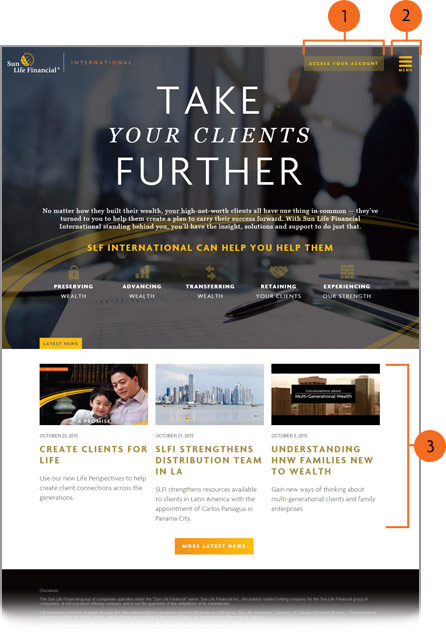 Latest News & Insight
Discover new ways we can help you and your clients in the international arena and understand our leadership role in this growing market.
Connect with clients by expanding their knowledge and resources
Our client learning tools can help you build better relationships across the generations, retain clients and deliver Wealth and Life Solutions that HNW families need now.
This is only the beginning
Bookmark our site at sunlife.com/international/fp/ and gain timely insight, tools, news and so much more on your way to your accounts!