Leadership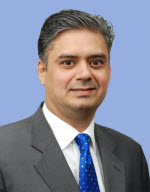 Shiney Prasad, Managing Director, leads the Sun Life Financial Asia Service Centres (ASC). The ASC comprises of the Asia Service Centre - India in Gurgaon, India, and the Asia Service Centre - Philippines in Manila, Philippines.
The Asia Service Centres work to drive strategic growth and operational excellence coupled with making both the centres a strong off-shore model for Sun Life Financial.
According to Shiney, "The ASC model allows us to leverage our expertise in information technology and operations, and ensure that our business partners are getting optimum benefits of our services in terms of skill, cost and productivity. World-class service delivery and customer satisfaction is at the forefront of what we do every day".
Shiney has over 20 years of extensive experience in global financial service operations with over 12 years of dedicated stint in the insurance industry. A professional with operational insight and expertise, Shiney leverages available resources and knowledge, driving the Asia Service Centres to deliver high quality off-shored services to business partners around the globe.
Before joining Sun Life Financial, Shiney was the Chief Executive Officer of Chartis Technology and Operations Management in Malaysia (P&C Company of AIG Group), wherein he led the shared services strategy and practice.
Prior to that, he set up and managed a shared services organization in Mumbai comprising over 700 people, responsible for servicing AIG's domestic businesses in India including IT and Systems, Network and Call Center telephony. Shiney was also instrumental in setting up AIG's Business Process Outsourcing company in the Philippines and expanding it to over 600 employees. Shiney has also worked for GE Capital, New York Life India and American Express during the initial phase of his career.
Shiney holds a Bachelor's in Commerce degree from University of Delhi coupled with a Master's degree in International Business and Trade from the Indian Institute of Foreign Trade, New Delhi.

Shiney leads a robust team of highly qualified and experienced management professionals responsible for the growth and development of the Asia Service Centres at Sun Life Financial.